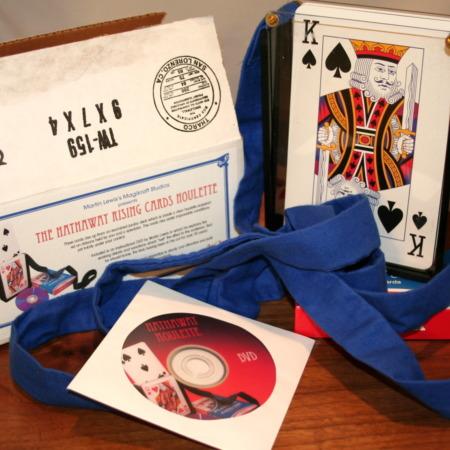 It's a WINNER!

Let me start by saying two things:

1. I have been performing Magic for 50 years.
2. I collect Rising Cards.

I have Anverdi's, Ken Brooke's Nemo Rising Cards, El Ducos, Abbott's Newest Nu-Power, Mikame's, and many, many other rising card decks.

Why?

Simply put, the rising cards are classics of magic and audiences love this effect…its very magical, mystical and entertaining!

When I saw the ads for Martin Lewis' version of the Hathaway Rising Cards….well…..if you've ever seen Marting Lewis perform……its a no-brainer…Martin does killer commercial magic!

This is a QUALITY prop for working performers thats easy to use and packs a maximum wallop. As it says in the ads…….it plays BIG on stage…and has everything going for it that you could ask for…..the involvement of an audience volunteer, and a commercial, entertaining and mystical presentation.

Plus, the included DVD instructions give you tips and pointers that are right on the money!

Do yourself a favor……..just buy it while they are still being made…..you won't regret it.
Click here for more information.