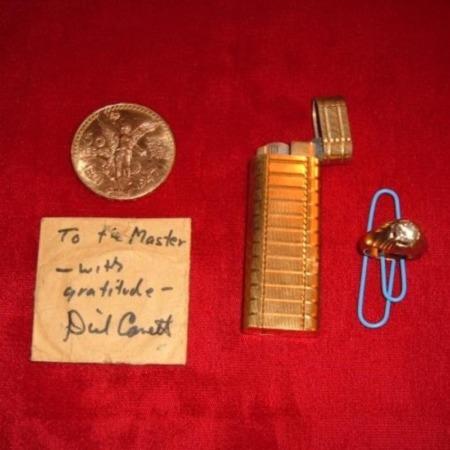 Slydini Treasures

Slydini and Ed developed a very close personal relationship over the years. Ed was very much involved with the National Magic organizations in Boston, both as a promoter and Producer of several large Conventions. An almost immediate bond developed between the two that transcended Magic. Slydini often referred to Ed as his "Best Friend" in the world.
When the book The Magic of Slydini was first introduced Slydini was visiting a relative who lived near Boston. Ed opened his home to him and thus began a deep friendship that lasted throughout the rest of Slydini's lifetime. While he was staying with Ed in Boston, he invited Ed to visit his relatives with him.
When Ed visited New York, he would stay with Slydini. Slydini always insisted Ed sleep on the bed and Slydini would sleep on the sofa. When one of Slydini's students would arrive for a Magic lesson, Ed would leave the apartment and return after the lesson.
Slydini was always the Gentleman. Ed recalls how he(Ed) had been working on Slydini's Coins Through Table for six months and proudly (although nervously) performed his newly gained technique from The Magic of Slydini book for the Master. Slydini chuckled and very respectfully told Ed that although he had learned the method well from the book, that method and performance was incorrect. He then very patiently took Ed from ground zero and taught him the correct presentation and handling. This was the only "lesson in Magic" Ed ever received from Slydini. Their relationship was based upon friendship and mutual trust and respect.
One of Ed's favorite memories is accompanying Slydini on a lecture tour through Rome, Amsterdam, and London that lasted over a month. Here Ed was introduced to the works of Michelangelo and the great museums of the Art World.
He also discovered that Slydini was a wonderful cook and the creator of a truly world-class pasta sauce. (It took 2 days to make!)
As a gesture of their friendship, before Slydini was to undergo major surgery he gave Ed his diamond finger ring as a token of their friendship. This is the same ring you see in all the photos and videos of Slydini.
Pictured, too, is a Gold Coin bestowed upon Slydini by Dick Cavette after one of Slydini's television appearances on the Dick Cavette Show. In Dick Cavette's handwriting on the coin envelope is: To The Master–With Gratitude–Dick Cavette.
Evidence of the respect Slydini garnered around the world is the Gold Cartier (Paris) lighter given to Slydini by a prominent European Magical Authority (identity withheld by request) after Slydini consented to make a series of private instruction videos and give one-on-one training to this well-known personality.
Click here for more information.