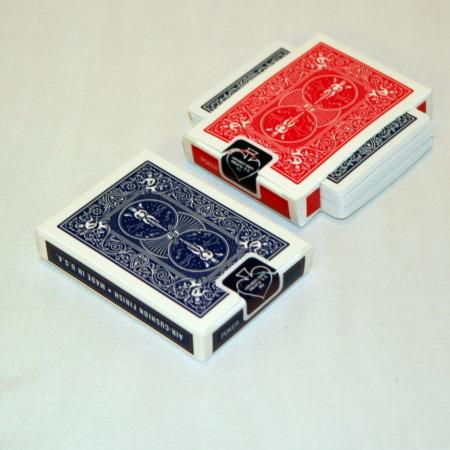 Amazing puzzle from Masuda

Masuda creates some wonderful effects. I'm not sure you would perform them all to lay people but they are still very clever all the same. This effect is truly a mistifying puzzle and looks exactly as it says.

You start off with an empty blue case and a criss-crossed red case where a blue deck is running through a red case. You pull out the blue cards and freely show and shuffle the cards they all are complete with no holes. These cards are placed into the blue case and fill the case. Now you notice that there is still a full deck in the red case – this time they are red and you pull them out, freely show and shuffle them. When they are returned to the red case they are also shown to fill the deck.

Where the heck did the red deck come from? It was in the X-Zone all along!

Very easy to do, nothing is added or taken away, and you are ready to fool the heck out of them!
Click here for more information.