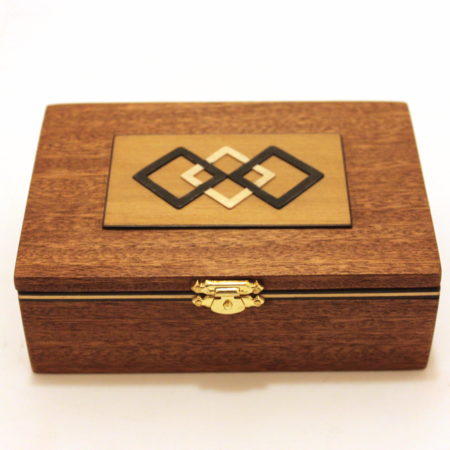 A Christmas Miracle!

It has been many years since I have opened a brand-new effect from my good friend Alan Warner, but this Christmas I had the rare treat of doing just that. Alan, always ships his items from the UK meticulously packed and everything always arrives neat, tidy and in perfect working order. The mere action of opening the tightly wrapped brown paper and tissue paper gets your magic juices flowing as the magic reveals itself to you.

This particularly item is produced as a limited edition of just fifteen units and will be in high demand amongst Warner fans throughout the world. Alan has created three clever routines to work with the same basic box and although it is not possible to perform all three at the same sitting it does add more mileage to the purchase as each effect is strong and different.

In Effect #1 you place a blank piece of plastic inside the box and start collecting invisible holes. As you collect them from the air you store them in the box. When the plastic is now tipped out it is covered with holes: squares, circles, and rectangles. You then notice a even rarer hole – a triangle and as you tip out the plastic it now has an extra triangle. Two sets of changes from a very innocent looking box without any tricky moves.

In Effect #2, a card is chosen from six miniature cards on display and placed on a blank piece of plastic (which can be given to the spectator). They can choose to place the card either face up or face down and once they are happy you place the plastic and card into the box. A magical gesture and the card and plastic is tipped out again – and the face or back of the chosen card has now been imprinted on the plastic. The playing card is then turned over to see that the side touching the plastic has been erased.

In Effect #3, the box is used to hold a single prediction and the spectator is given a fair choice of one of four neat looking plaques and of course every time the prediction matches perfectly. The predicted plaque can be different each time and the method is simple but clean.

Three great effects all housed in a beautiful presentation case that only Alan knows how to craft. If you are an Alan Warner fan then now would be the time to contact him to see if you can get on the list for one of these rare beauties. You will not be disappointed.

Highly Recommended for collectors everywhere!
Click here for more information.