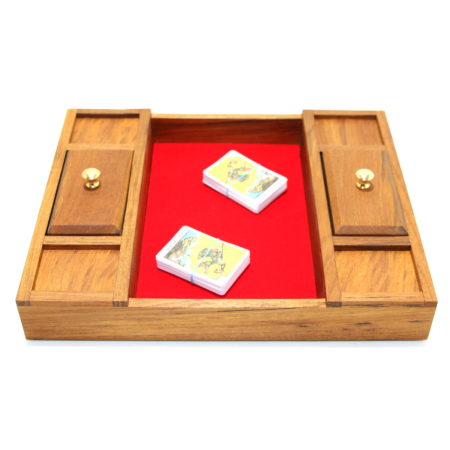 Talk about the Land of Missed Opportunities! Total Serendipity is a really amazing, clean and beautiful switching device. The feature effect it is shipped with could have been so much better if Magic Wagon had spent just a little more time with the props and routine, instead of stampeding to produce the most beautiful prop without spending an equal amount of time with the finished product 🙁
I reported when Magic Wagon created the Utopia Prediction how they they have a great effect and method, but did not think it through and created a box that held only half the deck, when in fact if the device had held the whole deck it would have made so much more sense. Well, I feel this effect is even more so – you have this neat looking box with close-up pad area and the place to hold two packets of cards – but the holes for the cards are so small the only way you can easily remove the cards is to place a rubber band around the packet and lift the packet via the band. But this means you can't use the device as a way to draw cards one by one, which if you did would allow you to streamline the routine AND provide a reason why you stored the cards in the base in the first place. These changes to the props or the routine are not hard but they can often be the difference between a contrived routine and a killer one.
That being said, if you ignore the provided presentation you have the opportunity to create some amazing routines with things like: dice, billets, coins, bills, etc. Although I don't love the shipped routine I do think that this unit is so well made that it is worth it. I hope to find time to create some cool ideas with small articles such as: dice, billets, coins, and bills. In fact, I've just ordered a second one of these because I think it has so much potential.
Even though they miss an opportunity here, the device is so good I will not ding a point this time. But please Magic Wagon, spend a little more time on the routines before you go to production, because with a little bit of extra thought you could really blow them away!
Click here for more information.