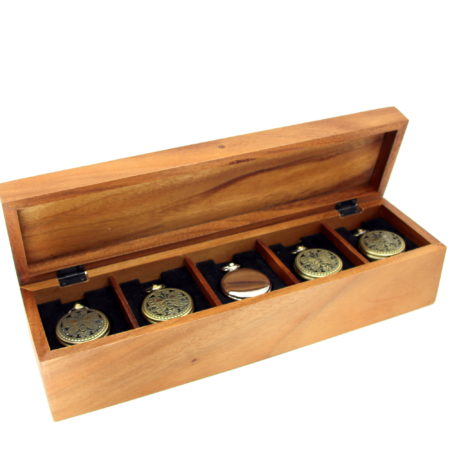 Here is another electronic item from Christopher Taylor. In method it is very similar to his other recent premium item: The Snooker Prediction Box. However, what I love about Christopher is how he takes the same method and creates a very different effect.
This starts of as a clean version of Max Maven's classic Kurotsuke routine by selecting the spectator who chose the only silver pocket watch out of five. But Christopher does not end there. He then reads the minds of the remaining four spectators by accurately pinpointing the time that each or their watches is set at.
The method to do this is easy to do and easy to remember, but the impact is pretty stunning and it comes back to how important the routine is for these mechanical and electronic marvels. So often we fall in love with the method, when in fact the method is almost meaningless (because you can't show it to the audience) if the routine does not make the most of it.
I was really expecting to prefect the Snooker Prediction to this effect, but now it is not clear to me – both effects are amazing and choosing between them is quite difficult. And of course that is why I had to purchase both 🙂
Click here for more information.