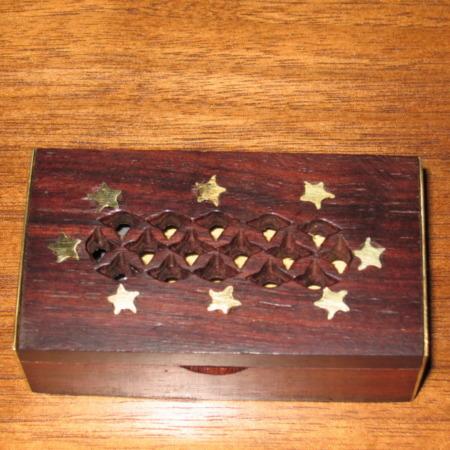 Not Mystery Box, but better sometimes!

Ok so when you first recieve this box you are going to be looking for some cool gimmick. You initially will be dissappointed as the box is totally ungimmicked.

However, it is designed very well and has some very specific properties that allow you to basically do what you can do with $link(nd=gallery&keywords=kennedy-mystery+box&flag=John%20Kennedy%20Mystery%20Boxes, John Kennedy's marvellous Mystery Box) and quite a lot more. Because it is ungimmicked you can't be quite as clean as the Mystery Box allows, however if you can handle the Mystery box I don't think that will be a problem for you. And there are three big pluses over the Mystery box: you can use it for any playing card, business card or other billet like slip, it requires no reset and it is half the price. John Kennedy does provide $link(1263,Money Mystery Box) and the $link(1264,Prediction Mystery Box) but now you need 3 boxes to do each effect. With the Tibetan Wishing Box – you just need the one.

I am a big fan of the Mystery Box and have performed it for years. I won't give up using it either – in fact I do a routine with $link(815,3 boxes) and it kills! However, because of the benefits this box has I could see myself using it initially for various other effects and might even find myself doing it in place of the Mystery Box over time.

It comes with a good set of detailed and photo illustrated instructions too.
Click here for more information.