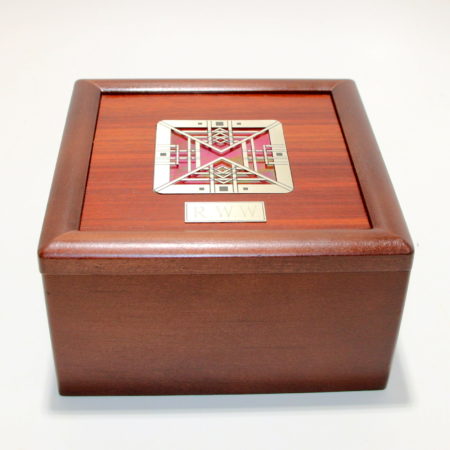 This effect is one of Tommy Wonder's most amazing achievements and truly one of his signature pieces – it is Tommy's version of the Oswald Williams Hold-up premise*. There have been a number of versions of this effect over the years by various builders, but this one, by Ken Winters, is considered the best. Ken has followed every detail in Tommy Wonder's routine and spared no expense or detail. This version even work's smoother than Tommy's own unit that retailed for $5000.
This unit is the very first set that Ken Winters created in 2007 with a plaque stating #1 and comes complete with all necessary props to perform Tommy's full routine: the regular watch, the incredibly gaffed watch, the reel, the harness, the notched wallet and even the ring. Also included is a template for correctly gaffing the envelope which is simple and just requires two cuts in the right place. It also includes the full and detailed instructions from the Books of Wonder.
If you ever wanted to perform this amazing routine, this would be the set to do it with. Here are some words from Tommy Wonder explaining why the trick is so effective:
I've used this trick to open my close-up and parlor acts for years, and I'm pleased to say it seems to fool everyone-even well-posted magicians- as thoroughly as I hoped it would.
The main reason the trick is so deceptive is because, although all three items are seemingly placed into the envelope, each is vanished from it by a different method. Each method cancels thoughts of another of the methods employed, thus strengthening the whole and making the procedure impossible to reconstruct.
Click here for more information.