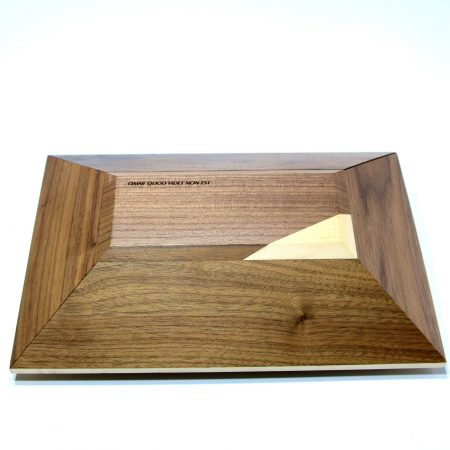 This neat item was designed and produced by, Magical Concepts Plus, Wood Dale, Illinois c. 1990. It is a hand-crafted, walnut and maple case that houses various magical effects. It also came originally with an instruction video. I received no instructions or video when I obtained this. It appears to come with the following items:
Custom Walnut version of Ed Massey's Ribbon Fantastique (I'll include instructions for a previous version).
A wonderful version of Heath's Mystic Tappit but with a clever ruse which means you don't need to remember any colors. (I'll write up instructions for this – it is an amazing and simple to perform item that is always ready to go and works perfectly!)
Pair of normal dice
Deck of regular playing cards
I don't know if there was anything else – it feels pretty snug so I'm not sure if they could fit much more in the box.
On the front of the box it has the Latin phrase: "Omne Quod Videt Non Est" – searching online did not give a meaningful translation, but I'm guessing it says something along the lines of: "Everything is not what it seems" (though I could be wildly wrong here!).
Click here for more information.