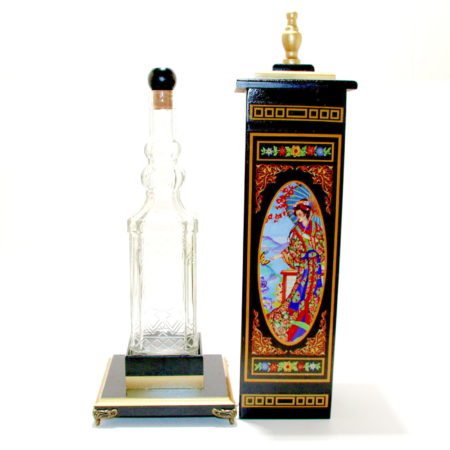 Michael Baker is one of the very few craftsmen left who not only creates beautiful parlor and stage sized collectible magic, he is also a performer in his own right. Whenever you purchase an item from Michael you know he has thought through the routine such that each move and design decision make it as smooth as possible to entertain and perform.
This is Michael's take on the Silkola effect invented by Lennart Bondesson of Sweden c. 1966 and sold to Supreme Magic Co. of England when it was first marketed c. 1967.
This is quite simply the most stunning version of Silkola you will ever see – it stands at 18.5″ high and even the bottle is ornate and beautiful. The routine is a wonderful story and the moves are timed perfectly with the action – this really is a miracle and it comes with everything you need except for the vanish of the silk (use your favorite method).
The market for this type of magic is tiny, but God bless Michael for continuing to create his beauties, we'll all be worse off when these types of effect are no longer produced. They beat a slick download, a fancy deck of cards or the latest computerized watch any day!
Click here for more information.