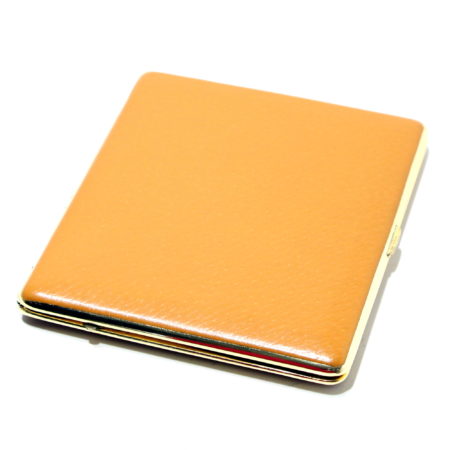 The Conway Cigarette Case is based upon the effect The Card and Cigarette Case by American Close-up Magician Bert Allerton in his book The Close-up Magician c. 1958. However, Bert Allerton's idea used an ungimmicked Cigarette Case. Pat Conway created the perfect gaff to make the case still look normal, but also much easier and more convincing to perform.
Ken Brooke purchased the rights to Pat's approach and produced this beautiful and innocent looking Cigarette Case. The early versions sold by Ken required an elastic band to be used but Fred Lowe suggested a modification which removed the need. This is the final version after all the improvements and suggestions and it is perfect and easily one of the best items produced by Ken Brooke 🙂
I've always wanted to get one of these but had no clue how cool it was until I received it. It does not work like any other card box you have seen and there are no flaps … yet you can do pretty much anything any other card box can do, but in a much more natural and clean way 🙂
I've included the full Card in Chewing Gum instructions from Roy Johnson's amazing book The Roy Johnson Experience and along with some extra tweaks that are included with the instructions for the Conway you will have the perfect routine you'll use in every show.
The only problem I had is that I don't smoke and the last thing I wanted to do was buy some real cigarettes to perform this. Luckily Amazon came to the rescue and I was able to get a pack of herbal cigarettes that are tobacco and nicotine free and look and work perfectly.
Included:
The amazing Conway Cigarette Case in like new condition.
Six pages of tips and instructions.
The full six page routine for Card in Chewing Gum from Roy's book.
A pack of herbal cigarettes which look perfect (of course you can use real cigarettes too!).
This is really an amazing and innocent looking switching device for cards, billets, cash, business cards and anything else that will fit inside the case that you will find many uses for.
Click here for more information.