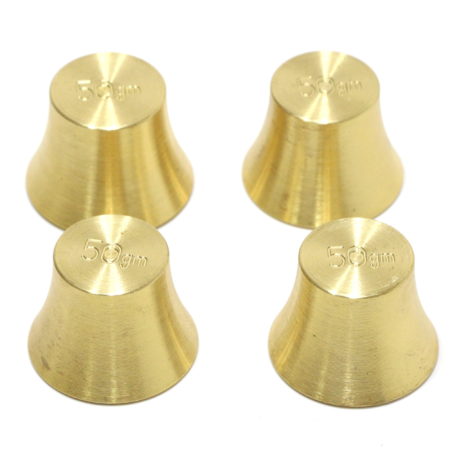 Wow, these weights are really amazing and beautiful! They are made of solid brass, look and feel perfect and come with a clean and entertaining routine that is taught perfectly by Bob Sheets and Glenn Morphew. The weights are even nicer than the Jim Riser ones which were the gold standard for many years. Just amazingly solid and there is no way you can spot the gimmick, it is perfect (I can't pick it out from the line-up without looking first) 🙂
The routine created by Bob Sheets and Glenn Morphew is also one of the best Matrix routines I have seen and Bob & Glenn clearly spent months refining and improving it. It is taught perfectly by Bob Sheets and Glenn Morphew (in separate sessions) on the included 53 minute DVD. They have made it as easy as possible to perform and it is funny and entertaining too.
If you ever wanted to perform a Matrix/Chink-a-Chink routine this has it all:
Beautiful Solid Brass Weights
Perfect seamless gimmick
Clean and Entertaining Routine
Clear and Easy to Follow Video directions from both Bob Sheets and Glenn Morphew
Just watch Bob's performance and I think you will look at this classic effect in a whole new light. Amazing, funny stuff 🙂
Click here for more information.