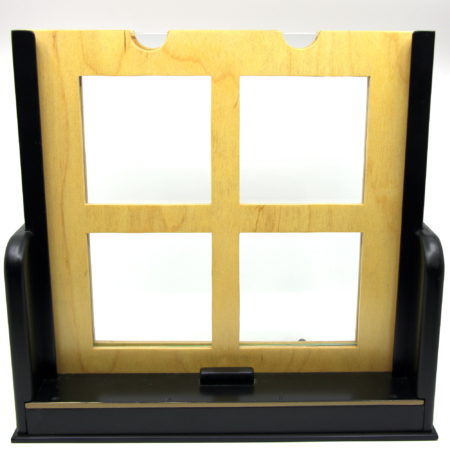 One of my favorite glass penetrations is the Glass (Quadruple) Penetration that was invented by Peter Warlock in 1937. It is sometimes known as the English Glass Penetration and there have been a number of versions created, even as recently as 2020 when Magic Wagon created their Atomic Glass Penetration.
This is a very nice version of the Warlock effect created by Abbott's – sadly although it is the exact same method as Peter Warlock's version there is no mention of the inventor online or in the instructions. I always find it sad when a large company like Abbott's chooses not to acknowledge the inventor of a well known effect such as this. Even the name, Soft Glass, which sounds kind of cool, is not Abbott's idea – it came when Jim Sherman of N.M.C. released their own version of Peter Warlock's Glass Penetration (with permission from Davenport's who held the rights at the time). However, in N.M.C.'s catalog they did at least acknowledge the inventor as Peter Warlock (though early adverts did not).
Abbott's original released this c. 1946 and this is a surprisingly good version by Abbott's re-released in 2021. It works very well and looks amazing. The current routine that Abbott's uses is a little different from many other Warlock versions – instead of having four needles to push through each hole they thread the needle through each one. I actually like this presentation and it flows quite well.
I think it helps to also begin by tapping the glass to show it solid with a full size magic wand as an extra convincer.
Includes:
The Soft Glass frame (complete with real glass).
A wooden needle with long ribbon.
A stylish wand (bonus: $49 retail).
Four metal needles with ribbons (bonus: should you want to do the Warlock presentation)
Click here for more information.