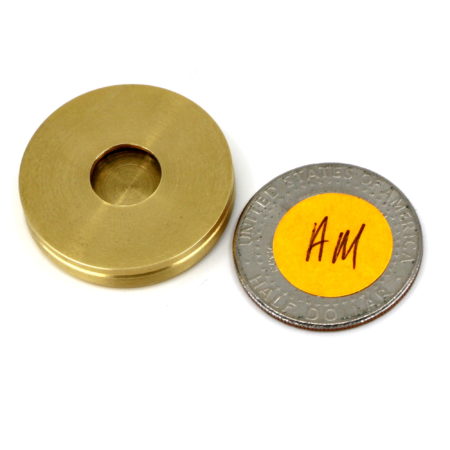 Finally released in Half Dollar size – thanks George 🙂
Here is another overlooked classic effect created by George Robinson at Viking Mfg. It might seem similar to other Okito Box type effects, but it is quite unique in effect and method. In essence the QuartOkito Coin Box is a Boston Box designed to hold a single half dollar. But there is really nothing like it and it is simpler to use than most boxes and due to the visual vanish in mid air is under less scrutiny than usual because the spectator sees the coin disappear!
The set-up is even easier 🙂 If you read the instructions first and read how to do "the move" – it is not really a sleight because you don't really do anything in secret and it is not the same as the normal Okito turnover move because it is all covered by picking up the lid – you'll be pleasantly surprised how easy this is to do right in front of them. Watch the video and it should be clear how smooth this is (I hope!). play with this for a ten minutes you will very quickly see how effective and easy to perform this is.
When it comes to the vanish what is particularly effective is that the coin that the spectator thinks they signed can be seen right up to the second it vanishes instantly in front of their noses. Why this is important is that there is no heat on the switch into the box or tube that the coin reappears in, and the spectator swears that the coin was still in the box after you hand them the Lippincott box (which is supplied separately).
Click here for more information.