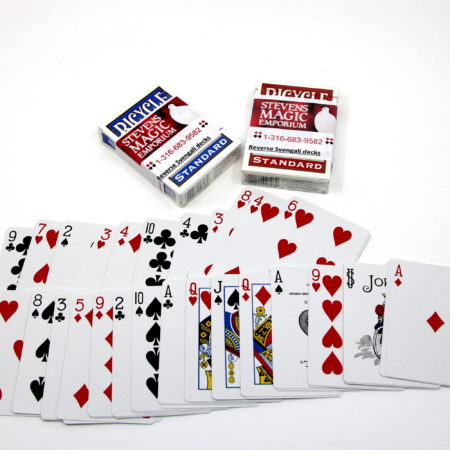 This is basically the same as the normal Svengali Deck, however it is reversed. This means you riffle it in the opposite direction to show all the cards the same and vice-versa. What is useful about this approach is you can drop cards face-up and they are all different. It is useful to have both versions as you never know which set you want. For the Paul Curry effect below the Reverse Svengali is better for a cleaner experience.
These are made by Steven Perry who is a professional card mechanic and does an amazing job for just a few dollars more. These are not bulk manufactured, each deck is made by hand with meticulous attention to quality control and precision.
If you need any sort of standard or custom gimmick deck I suggest you contact Stevens Magic and I'm confident you will switch too, I know personally I'll never go back to the mass dealer ones 🙂
Click here for more information.