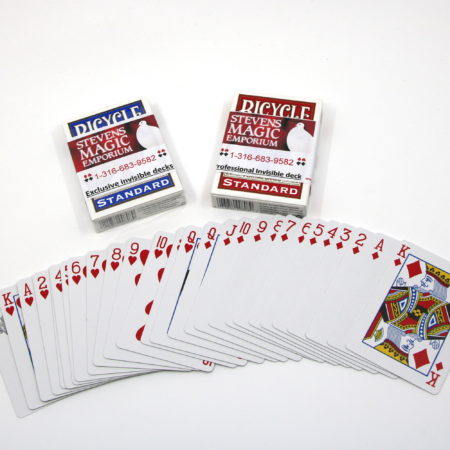 The most popular rough and smooth deck of all time! Although, it is often mis-credited to Burling Hull, it is precisely the same deck as Joe Berg's Ultra-Mental Deck c. 1936. The now standard "invisible deck" comedy presentation was conceived by Eddie Fields and popularized by Don Alan.
These are made by Steven Perry who is a professional card mechanic and does an amazing job for just a few dollars more. These are not bulk manufactured, each deck is made by hand with meticulous attention to quality control and precision. The rough is solid and will not let you down under pressure.
If you need any sort of standard or custom gimmick deck I suggest you contact Stevens Magic and I'm confident you will switch too, I know personally I'll never go back to the mass dealer ones 🙂
Click here for more information.