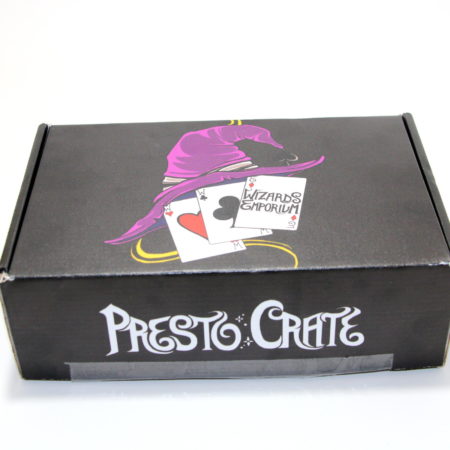 There is a new magic company in Austin, TX called Winsome Wizards Emporium,  that has just launched and I think they are worth taking a serious look at.  In addition to offering a full line of magic, they are creating a monthly set of products called PrestoCrates where they deliver a cool box of unique and different magic to your doorstep once a month.  The subscriptions come in three designations:
For March I tried out the PrestoCrate XL and even though I have added literally 1000's of tricks to this site and seen many 100's more, I was not familiar with any of the 5 items that came to my door and so was quite excited to pour through the items.  The March box includes:
With the exception of Magma, none of these tricks are push-button magic – they will require some practice.  But they are all strong routines and worth the practice for sure.  I'm quite surprised how good each item is and it goes to show you that a DVD and some basic props really are the way to go if you actually want to impress an audience.  We might like our shiny boxes and our cool gimmicks, but the magic that we actually perform to real people are effects just like these ones.
I wish Eric and his team at Winsome Wizards the best of luck in this new venture and look forward to April's crate with anticipation!
Click here for more information.