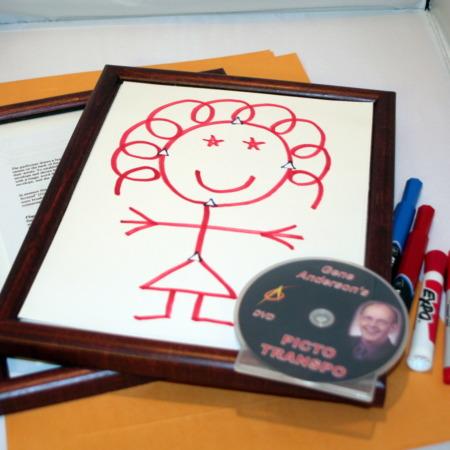 The Perfect Slate Effect!

Years ago an inferior version of this effect called $link(420,Picto-Chango) was put out by Mark Trimble under license from Gene Anderson. It was an ok product but Mark never paid Gene for the rights and it also never met the expectations that Gene had for this wonderful trick. Now Gene has put out the definitive version of this beautiful effect, and it is really world class.

Picto Transpo is based on a Roy Johnson routine "On The Slate" from his book $link(http://www.qualitymagicbooks.com/?nd=full&key=1014 target=_blank,Second Time Around). Roy Johnson credits Peter Warlock for the original idea.

With the addition of modern technology in the form of Teflon coated slates and the use of a humorous caricature instead of a simple geometric shape the whole routine is transformed into a real performance piece.

In effect the magician draws a simple caricature of his assistant and signs his name on the back and the spectator does likewise. Even though everything seems totally fair, the pictures still switch places – it is really amazing to witness.

This is not a piece of magic that you will recieive and do minutes later – it does take some practice to ensure everything is clean and smooth. There are no difficult moves and once you have perfected the routine you will have an effect that can close your act everytime. It is beautiful.

Highly Recommended!
Click here for more information.