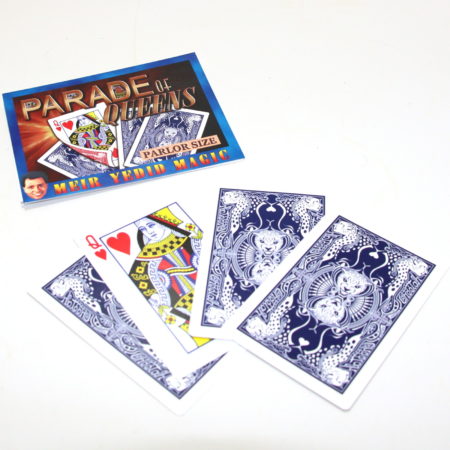 One of my most popular packet tricks when I grew up in England was an effect I purchased from Ron Macmillan's International Magic called Any Queen Called For. I used to say it was better than John Bannon's Twisted Sisters which I still believe it is if you perform it three times in a row. These days the closest effect I do to "Any Queen Called For", is Gordon Bean's Entourage which uses the same gimmicks as "Any Queen Called For", but adds four jokers for a kicker ending. Because these effects do not have different colored backs they are easier to perform multiple times, which I like to do as they strengthen the effect.
However, if you just want to perform the effect once then a variation of The Parade of The Kings, released by Supreme magic at least as early as 1971, will provide a stronger reaction. This version released by Meir Yedid Magic is perfect and the parlor size of the cards means that the cards are easily seen by larger groups without being too large to handle comfortably or fit neatly in your pocket.
In Paul Hallas' excellent book "Still Small, Still Deadly" (page 83) he goes into great detail of the history of "Packet Trick Brainwaves" effects which is fascinating reading. The book is still available as an e-book from Lybrary.com.
Click here for more information.