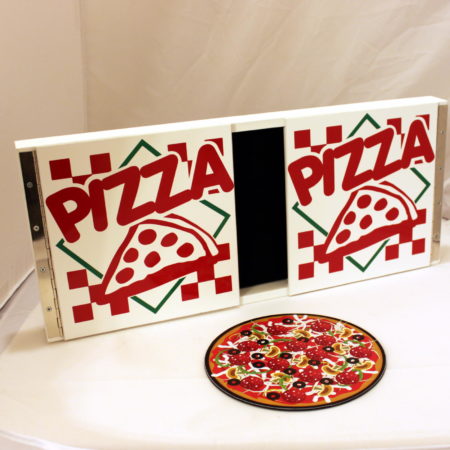 Fun and now a Fooler!

Excluding all of the Die Boxes and Run Rabbit Run's, there have been many versions of this basic effect – on this site alone we have: $link(1220,Luna Trick), $link(993,Elusive Teddy Bear), and $link(3384,Sliding Disc Box). In most cases it is a poor cousin to the Die Box, because many Die Boxes do in fact fool the audience. Fortunately, Dan Wolfe and his team over at Smoky Mountain Magic have created the Magic Pizza Box which really is a fooler. They have added two large holes in the back that you put your hand through, and yet the pizza still vanishes. If you watch the video on Dan's site it is a real surprise when it vanishes. Where did it go!

The wooden box is very well made and it really looks like a pizza box (albeit two together). The plastic pizza looks good enough to eat and the patter lines can be much more realistic and fun because the box and pizza look so good. The unit is built from unbreakable plastics, cabinet-grade plywood, and covered in their TuffKote laminate and will probably last a lifetime. It also comes with a duplicate pizza to reproduce on your back or elsewhere.

This is my first item from Dan and I look forward to purchasing more magic from him in the future. He was a friendly and helpful in my communications with him and got this out the same day I ordered it.

Now Chance Wolf is out of the picture it is hard to find unique, great quality, performable magic, but with Smoky Mountain Magic I believe I have a new dealer to watch.

Highly Recommended for stage and parlor performers everywhere!

Click here for more information.