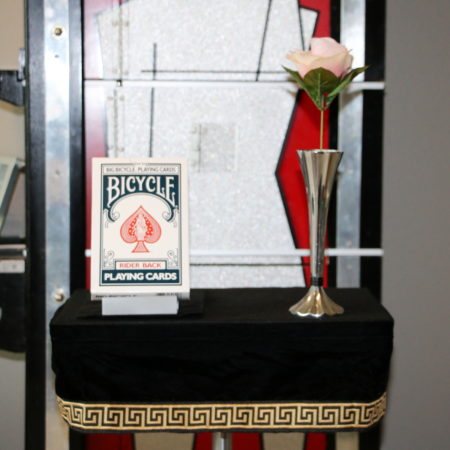 Designed originally by Rich Bloch and Nick Ruggiero; with exclusive permission from George J. Cook. This is the latest version newly redesigned by George Robinson in 2016 with new electronics and mechanics and now even more reliable than ever.
In early 2017 I finally received this extremely popular item from the Collectors' Workshop line-up from my good friend George Robinson at Viking/CW. Unfortunately, due to a massive kitchen renovation, it was put away in a storage room for over two years and I did not uncover it until this morning.
Firstly, it is packed to withstand a bomb blast. These new custom PVC cases that George is using are amazing. I read the detailed instructions and then set about my first attempt to set this up. Like most multi-phase electro-mechanical props it takes a while the first time to get it right. George's instructions are clear and detailed but it took a few moments to affix the rose. Everything else was straight forward. It uses 4 AA batteries and the ones it came with worked perfectly. Once you have set it up a couple of times you could easily go from case to fully assembled in ten minutes or less. This model works by sound or remote control and there is an enforced 7 second delay between events. The four basic events are:
Curtain falls
Rose flies into the air
Tabletop tips over causing all the items to fall on the floor and exposes the selected (wrong) card
The pip flies off to reveal the correct card.
While testing this I ran through the full cycle ten times. The first one out of the gate was nearly perfect, except that the pip fell when the table fell. It turns out that there is a cover to hide jumbo card on the table and you have to make sure it doesn't pull off the pip when it falls. This is covered in the instructions but I didn't take it too seriously at first. You need to take it seriously. I ended up rolling the cover away from the card and it worked best that way. The one other issue I had was I did not set-up the rose properly so it did not fire. Otherwise things were very reliable. The last three attempts worked perfectly each time.
I ordered this because I have had plans for some time to do a stage/parlor show in 2020, instead of the normal close-up I perform for my company each year. The last one I did was back in 2010 . Unfortunately since the time I ordered this in 2017 I have decided not to do any more big stage sized shows, they are just too much work and I really enjoy the closeness and ease of the close-up performances of the last few years. Yes I'm getting too old 🙁
It is a shame because this is a beautiful routine and I know it would be perfect for me. This is the basic routine that Rich Bloch laid out thirty years ago, sheer comedy genius …
Click here for more information.