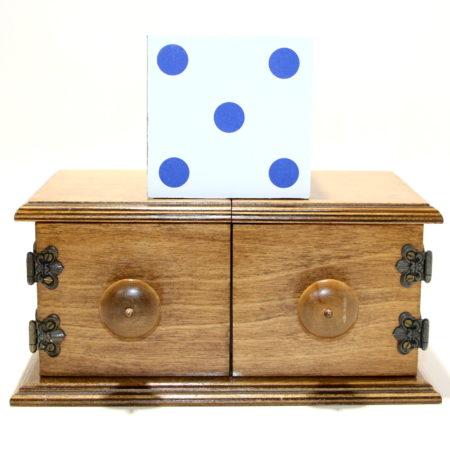 I've owned a lot of Die Boxes over the years but few get close to the quality and refinement of Ben Stone's solid and beautiful Jumbo Die Box. This is built to be used by professionals for a life time of laughter and amazement.
Features:
Beautiful highly lacquered Walnut Box is 10.5″ x 5.5″ x 5.5″
Solid white die is almost 4″ square (3.75″).
Unique Double Door Feature on one side – this method was invented by Ben Stone – and it allows you at any time to show the die in the box or not. This is very different from the method used by Mel Babcock and others and it is the first time I have seen it used. It is very effective, all you have to do is press the button on the front of the door to make it appear.
one of the best and most solid shells in the business (also made from Walnut) and unlike most shells it has the same wood on the inside so you don't need to have the black interior that most die boxes require.
Very solid and audible thunk as the die moves from side to side.
Whether you are a collector or a performer you have to see this beauty – they really don't make Die Boxes like this anymore!
_EF The basic effect is solid wooden die is shown along with this beautiful box having two compartments and four doors, The die is placed in one side ond sucker effect begins with magician showing one Side empty and then the other. Finally all doors are open and die is discovered in previously shown empty hat, bag, etc.
Click here for more information.