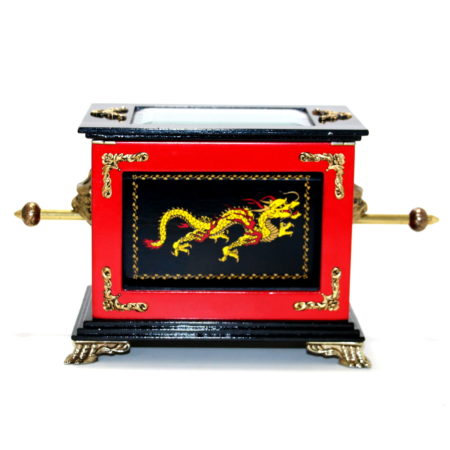 This is Richard Gerlitz's beautiful re-imagination of Loyd's wonderful Jewel Chest of Ching See that was first advertised for $25 in Genii Magazine in November 1944 (Vol. 9 – No. 3). The Chest of Ching See itself is most likely derived from the Phantom Die Cabinet offered by Thayer Quality Magic as far back as 1912. In the Thayer Catalog #8 of 1936 the price for the Phantom Die was just $12.50. Owen's also have produced an outstanding Phantom Die Cabinet that was advertised in the 1997 catalog for $650. Mike O'Dowd also created a version of the Jewel Chest of Ching See c. 1979.
But all of them pale to this rare and magnificent treasure released by Richard Gerlitz in 2002. This was one of Richard's early releases and he only created ten sets. This Jewel Chest and Richard's stunning Butterfly Boxes are by far my favorites. Not only has Richard created a stunning piece of apparatus to look at, he has also improved the mechanics and made it smoother and quieter and created a significantly more interesting routine involving the theft of Sea-Ling's treasure.
These almost never come up for sale because there are only ten in the world and there are way more avid Gerlitz collectors out there, so when they do become available you need to move. Hard to believe in 2002 these only cost $795. Expect to pay a lot more than that today.
Highly Recommended for anyone who loves perfect and beautiful apparatus that will last a lifetime and appreciate in value too.
Click here for more information.