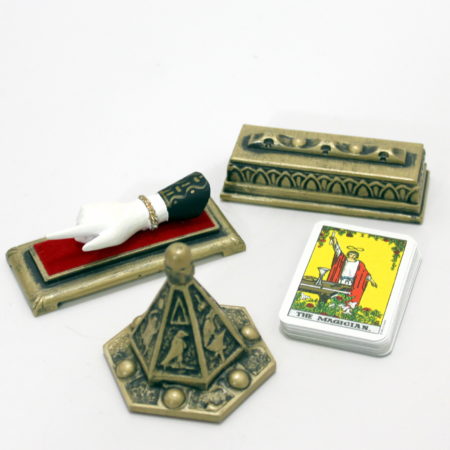 Ah Original and Quality Magic!

Harold Voit has marketed some great magic. This item and one of my other favorites, the Wandering Mummies, are both beautifully made, effective, and clever – a collector's dream.

This particular piece, made by the German Master Craftsman Tony Lackner, is really a utility item, in that you can control what the hand points to – and it can be different each spin. But when you dress it up like this, the performance and story aspects really increase and you can perform some very impressive, and scary, magic. Perfect for bizarre performances, or any Alan Warner collector who is inspired by his Egyptian themes.

My latest routine uses the 22 Major Arcana from a mini tarot deck. The spectator shuffles all of the cards and then selects any six face down. They then use the hand to select one of these six. After looking at the card and remembering it, they mix up these six cards face down so that no one knows where the chosen or any of the other cards are. The cards are not marked on the back either and are placed around the pyramid. The spectator now spins the hand and eventually it mysteriously stops at one card. You turn over each of the other five cards and finally show the chosen card is there one. It is a very freaky effect to the spectator!

By using the Tarot cards it also offers great potential to do a mini fortune reading as they select the six cards and the final one.

Highly Recommended, but be wary of recent remakes and rip-offs.
Click here for more information.