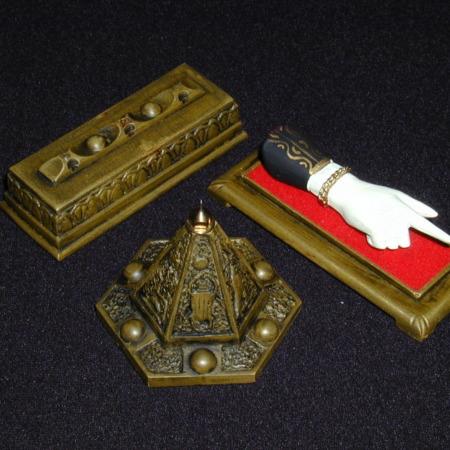 Ah Original, Quality Magic!

Harold Voit has marketed some great magic. This item and one of my other favorites, $link(1337,the Wandering Mummies), are both beautifully made, effective, and clever – a collector's dream.

This particular piece, made by the German Master Craftsman Tony Lackner, is really a utility item, in that you can control what the hand points to – and it can be different each spin. But when you dress it up like this, the performance and story aspects really incease and you can perform some very impressive, and scary, magic. Perfect for bizarre performances, or any Alan Warner collector who is inspired by his Equptian themes.

Briefly the effect is: 6 items are chosen – these can be anything within reason, and laid around the stand. A spectator selects one and is handed the box with Cleoptra's hand encased. The spectator removes the hand and plaecs it on the base. They then spin it and as it spins it slowly comes to a stop and points to their chosen card. The key thing is that the spectator places and spins the hand themself without any interaction from the magician.

A very beautiful effect. Be wary of cheap knock-offs that have recently been offered, get the original if you can. (But, of course, that warning could be on all high quality magic available today.)
Click here for more information.