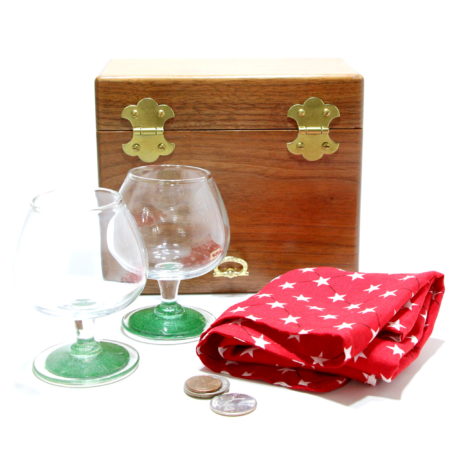 Created by Nick Ruggiero and Rich Bloch from an idea by Woody Pitman. This is another of the amazing effects created by Nick and Rich in the early days of Collectors' Workshop and for some reason has not been remade since George Robinson took over, and so they are quite rare now. Although the effect is similar (particularly to the spectator) to CW's other coin routine, Coin Classic, this method is very different. There is no deck of cards between the glasses and the glasses and coins can be minutely examined as they are not gimmicked.
There is a sophisticated mechanism involved that makes the whole thing work, but in looking at the props you would never guess and it creates a very effective and deceptive presentation. A little audacious to be sure, but some of CW's best items are. This is one that will most certainly fool them and with a little practice to get the timing right you'll have a real treat on your hands, and you'll love the method too 🙂
Click here for more information.