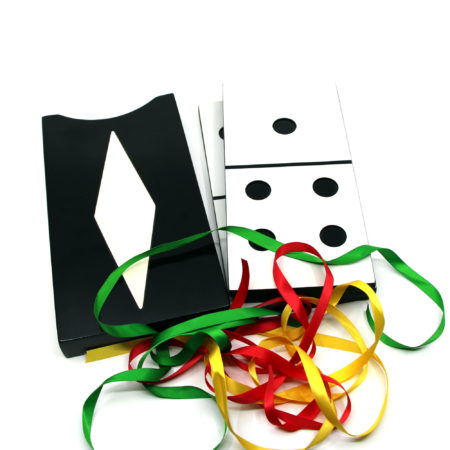 This is one of Alan's very early Children's effects with super large (9.5″ x 4.5″) dominoes so they can be seen by the whole party. The effect is very similar to the close-up effect do-mini-o though in fact the color change with this effect for the final domino uses all three ribbon colors (The painted close-up effect uses one color each and the teak close-up effect uses two colors.)
What is particularly satisfying about this effect is not only is it very solid, easy to do, and visual but the dominoes have a double locking action so they can be handled freely before and after should you desire.
A rare vintage beauty you don't see very often and would look great as a backdrop to some of Alan's smaller domino pieces 🙂
Click here for more information.