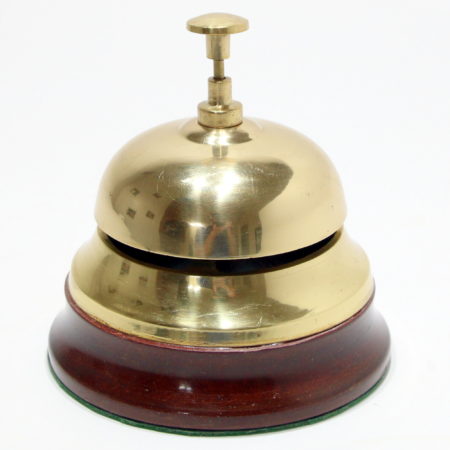 When I first saw this a few years ago I missed getting one primarily because I was happy with the wonderful Cesaral Spirit Bell (I even brought one of each!). However, I recently picked up Death Toll and am very pleased that I did. Although the Cesaral has a bunch of extra programmable features they are only any good if you plan on using them, and most of us use a Spirit Bell to ring the bell unattended, and nothing else. This is where Death Toll excels. Not only does it look 100% genuine, the bell is very clear and loud and you can actually see the plunger pushed. It looks wonderful!
Death Toll is extremely authentic looking too. In fact when I first received it I thought there is no way this is not a real bell retrofitted. I looked into it further and found out that Taylor Imagineering had these built from the ground up just for this effect. It also uses two standard AAA batteries, and even the top bell can be removed to see all the innards inside – there looks like nothing going on except the ringer.
Death Toll comes in two versions: the Bright Finish (featured on this page) and the Antique Finish. Although I often go for the antique finish, in this case I went for the Bright Finish as I have mainly seen bright and shiny bells at all the hotels I have visited. Both versions are the same otherwise and they all sound amazing.
The remote works perfectly and you can ring the bell about once every second, you have to wait for the ringer to fall back before it can be rung again, which is just like a real desk bell in fact. There is also an extra toe switch that you get so you can operate this 100% hands free. The toe switch plugins into the remote so you don't have to have wires going all the way up your leg, just tuck it into your sock. I'm pushing it down as I write this and it works perfectly.
Unless your routine actually needs the advanced programming capabilities of the Cesaral this is my new favorite Spirit Bell, I love it 🙂
Click here for more information.