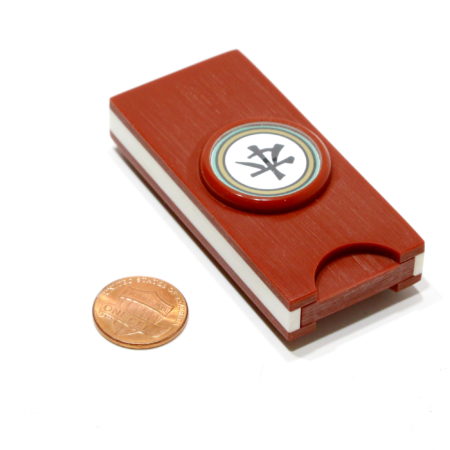 You can always rely on the amazing Eddy Taytelbaum to produce a beautiful version of a standard effect. Here he takes on the Coin Slide and in this version Eddy has created one with no moving parts. In fact the slide can be examined if desired 🙂
It is a simple effect, but Eddy still manages to create a work of art from it. The secret to appreciating Eddy's items is not just to look a them, but to hold them and use them. You'll find most of the time that they work as beautifully and flawlessly as they look. This little slide is no exception.
Thayer's Mystic Coin Slide c. 1921 appears to have been the first version of this type of effect, followed by Carl Brema's Coin Slide or Magic Mint c. 1925. The term "coin slide" should not be confused with the gimmick used to load a coin into the center of a ball of wool (or in nest of box routines) which was used much earlier.
Click here for more information.