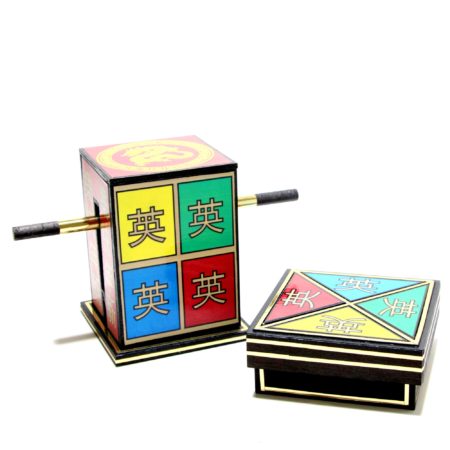 This is a colorful and clever version of Eddy Taytelbaum's The Ring Box of Buddha c. 1955, which itself was based upon Kenard's Mystery Box (Ring on Wand) c. 1941.
This very brightly colored and striking looking box has a number of clever features that not only streamline the basic effect but they take it further than any similar effect has gone before. Thomas really poured some creative thinking into this bad boy 🙂
There are only four rings used, and nothing is added or taken away.
There is absolutely zero force in the selection of the ring. The spectator can choose a different ring each time and the performance will look exactly the same (except that a different ring will end up on the wand!).
The spectator can choose the color of the ring with the magician's back turned and they never need to divulge the color until the very end.
There appears to be no funny moves and everything flows from the choices Thomas has made in the construction of the effect.
If you are a Thomas fan or are looking for something new and different you will be delighted with this little beauty.
Click here for more information.