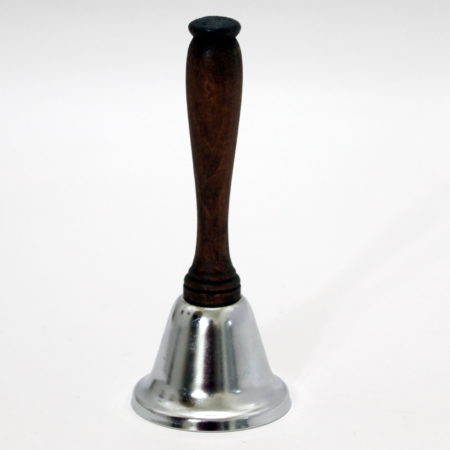 The Search for the Perfect Spirit Bell is still OVER!

So now I have the set! The one thing to remember if you want two or more bells is if you want to control each bell individually, please tell Cesar before you order so that he can change the signal used for the second bell. Otherwise you will have two bells controlled from the same remote – which is perfect if that is what you want.

I've see quite a few spirit bells over the years, but this one from Cesar Alonso at Cesaral Magic is easily the best. I chose the Antique Finish which really makes the bell look like a beaten up piece of junk but it works amazingly well – really clear ring. And ZERO signs of how it works. Even the ringer looks innocent. The size is perfect too – it just looks like an old bell you'd find lying around rather than a high-tech device. If you are going to use electronics for anything – they need to be this well thought out.

Yes the bell is electronic and can be recharged just by plugging the adapter in the wall. There is even a green light to tell you when it is charged. How nice of them.

This bell is 100% under your control and what is even more impressive is there are various modes that add a time delay to when the bell rings, so you can press one of the five buttons on the small remote and 5 or 10 seconds later the bell rings. There is even a programmed mode where it sleeps, rings, sleeps, rings, sleeps, rings, sleeps, rings. Really great idea. You could literally press one button then do your routine.

Truly amazing!

Most Highly Recommended for Collectors and Performers who want to amaze!
Click here for more information.