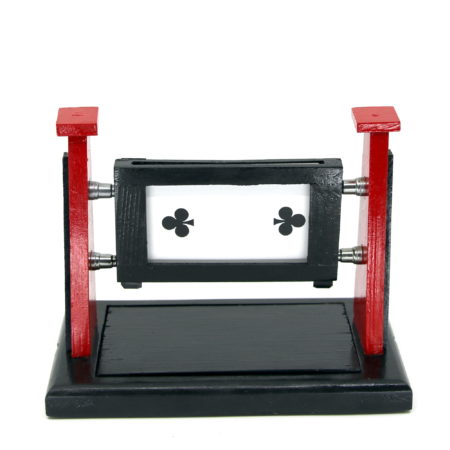 The legendary British Inventor, Craftsman, and Dealer, Jack Hughes, invented Card Go c. 1938 when he was building magic for Davenports.
This is a very rare find and the first time I have seen this improved version from Jack Hughes. This is even better and smoother than the original Jack Hughes version.
It works with both Bridge and Poker sized cards
Allows for more than one card to be vanished with zero reset. You can vanish one after the other up to ten cards (not that you would want that many, but multiple vanishes does look good).
The release uses two prongs made from clock springs, one on either side, which are very reliable and make for a clean vanish almost every time.
Easy load – just drop the card in the frame (as though it was just a frame!).
No premature Vanishes.
The Vanish does not require visual queues, you can stare at the audience the whole time.
Never misses – some versions of Card Go can miss and seeing a card flutter to the floor maybe funny but it is not very magical.
Almost silent operation.
Click here for more information.