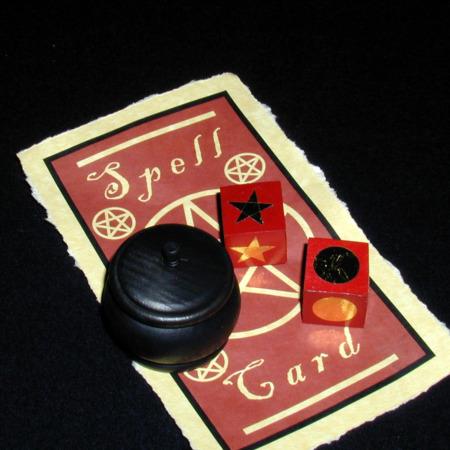 It's not about a single effect, but a family!

So this latest effect from those good guys over at $link(http://www.arlenstudio.com target=arlen,Arlen Studios) on its own might be nothing more than an intriguing puzzle – no matter how you dress it up, you're just divining one out of two outcomes. Even if you do it multiple times, its never going to blow an audience away – well it might in Keith's hands, but not mine.

However, that misses the point. What Arlen Studios are starting to achieve is a whole collection of good to excellent effects that have an old world feel and can lead to a very wonderful evening of entertainment if you play it right.

Just look at the array of props they now produce – even after you take out the tables and boxes – the line is really starting to gather speed and direction. I'm not giving 5 stars for this particular effect but for the line as a whole. Arlen Studios have found their own unique style. It is quite different from most of the other fine quality magic that is produced today – the wood he uses has a coarser, darker, sometimes uneven look. But I can get the traditional stuff from such craftsman as $link(//www.martinsmagic.com/?search_manufacturer=Alan%20Warner&advancedsearch=advsearch&html=gallery&tag=warner,Alan Warner), George Robinson, or Mel Babcock. I want it to look different! Yes its an acquired taste – so is British Beer! But once you see all of his line together you can't help but start to fall in love with it.

For me Arlen Studios will never replace Alan Warner – his magic is finer, more intricate, and probably cleverer in many cases. However, they have made some stirrings in my heart and head that make me want to devise an evenings entertainment where I travel back in time to an old medieval castle setting, carrying nothing more than a $link(//www.martinsmagic.com/?html=full&nav1=gallery&key=1414,beautiful box) under my arm, and not only entertain my audience with some engaging patter and mystical themes, but leave them with some sense that the magic was real.

For all of those magicians out there used to the standard look of magic props, maybe it is time to take the Arlen boys out for a test drive. I don't think you will be dissappointed!
Click here for more information.