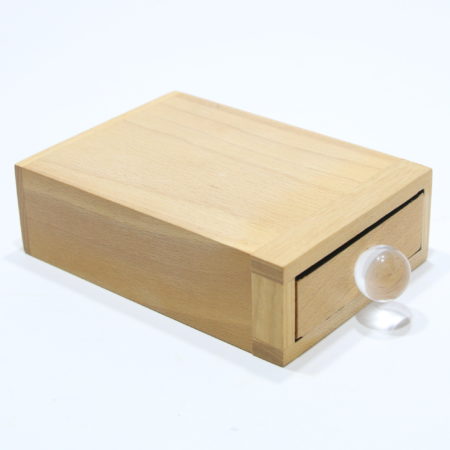 This is beautiful remake of Joe Berg's wonderful Improved Card Drawer c. 1945 by avid magician and talented woodworker Marvin Cull c. 1998. Marvin did a wonderful job and although I have not seen the original Berg boxes in person, from photos it appears that this is as good if not better than the originals.
The Improved Card Drawer is a card drawer box that allows for two changes and the drawer can be removed 100% and can be examined. Even the outer cover can be shown quite cleanly and handled by the spectator, though I would not recommend a thorough examination. What also works well about the design is the cleanness of the release mechanism. There are no levers or slides to change. Just push the drawer in all the way and the change happens, so the moment it happens is up to you with nothing added or taken away. You'll love this box for sure.
Click here for more information.