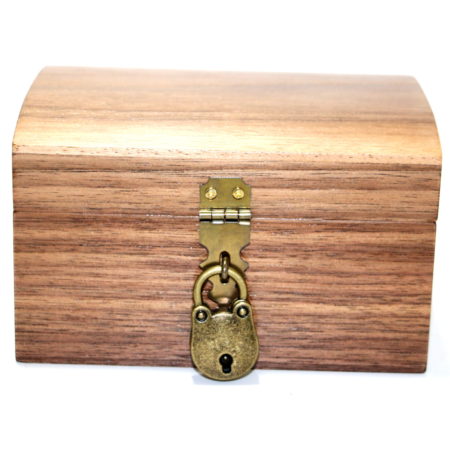 If you think that rampant piracy in magic is a new thing, think again. In 1948 William W. Larsen, Sr. (the owner of Thayer Mfg. Co.) took out an impassioned full page ad in Genii Magazine expressing his disdain for the inscrutable magic dealers pirating Thayer's Prediction Chest (which retailed at the time for $250). Mr Larsen's solution was to introduce the beautiful and practical Dr. Q Prediction Chest for a fraction of the price of its bigger brother (just $12.50 then) in the hope that the pirates would wholesale the Dr. Q instead of ripping the bigger one off, and that the average magician would purchase from Thayer directly. I don't know how successful Mr. Larsen was in his endeavor of stopping the ripoffs, but I am thankful for the introduction of this amazing and versatile prediction chest.
This is the Owen Magic Supreme version and although I've seen a painted one from the Carl Owen period I prefer this one as is more natural and closer to the original Thayer version. Although some of the double box and key loader systems for prediction chests are cool and James Bond like, for my money you can't go wrong with the Dr. Q Prediction Chest. It is a manual load but the secret is hidden so well, and the box is made so well it really goes above suspicion, looks perfect when you reveal a full size prediction, and never fails on you.
If I had to choose between my other favorite Prediction Chest by Tim Star and the Dr. Q it would be real close and the Dr. Q is five times cheaper and more versatile. I think you'll love it as much as me!
Click here for more information.