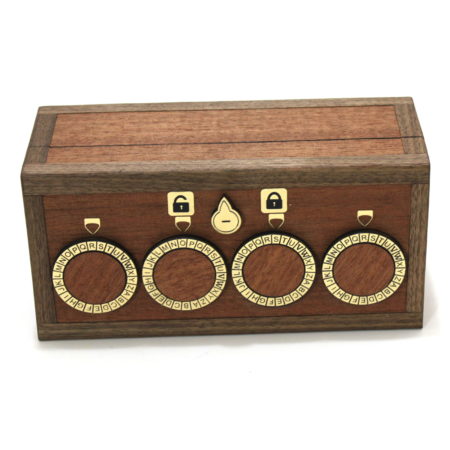 A stunning beauty from Thomas Pohle and a real fooler to boot! This is from the new 2015 line of magic and I must say it is truly beautiful. Thomas keeps surprising me that is for sure!
The performer shows the locked Da Vinci Box and hands it to a spectator saying that there is only one combination of letters to open the box and if the spectator can figure it out they can keep the cash contents. After vainly attempting to open the box the spectator gives up. You hand them a deck of alphabet cards and ask them to shuffle the deck and then deal out any four cards.
They then arrange the four chosen letters into sequence and you enter them by turning the dials on the top of the box – you can hear slight clicks as the dials are turned. You then turn the dial from locked to open and you can hear an audible click – the box has opened, with those exact letters. And inside is a bundle of cash that the audience could have won if only they had been as clever as Da Vinci!
This is a limited edition and will be a treasured by magic collectors all around the world. Great job Thomas!
Click here for more information.