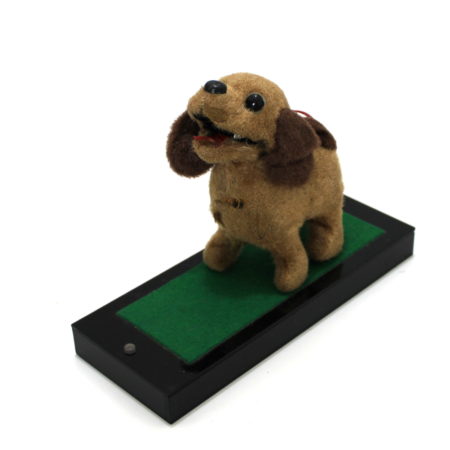 I love this puppy! So I've wanted one of these little guys for a while now and I recently picked up two (see the other one here). After a little bit of tweaking both work perfectly though they have a slightly different mechanism. But once set they work the same way as far as the spectator is concerned.
The spectator chooses a card (forced) and the cards are shuffled and they slowly deal cards one at a time in front of the dog. As they place the cards down suddenly the dog starts moving around towards the latest card placed down. The card is turned over and it is their chosen card. You take the card away from the dog and he stops moving. The unit is all self contained and there are no remotes or other gimmicks – it is all triggered by the special card.
This is basically a really cute version of the Anverdi Surprise Box and the ladies love it!
This dog had had a little damage, but the effect works fine even if the dog has a little bit of a gimp with a damaged jaw – from a performance point of view it doesn't make a lot of difference, but if you were a collector the other version I have is the better of the two.
Click here for more information.