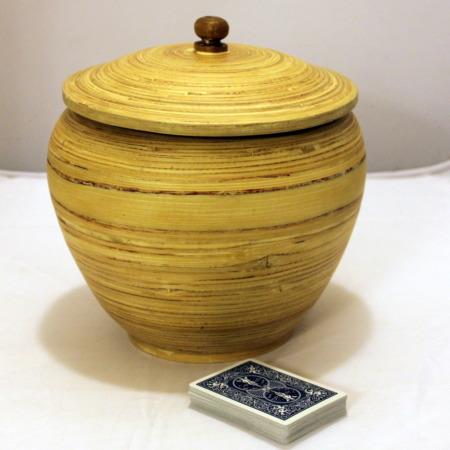 Nick Wenger has the Midas Touch!

Wow what a beauty this is. It is only the second item I've purchased from Nick Wenger, but boy is it special. Everything he touches certainly turns to gold!

I love Terry Lunceford's Viper Pro. But Shake 'n' Snake is so much better in entertainment, look, and, of course, manufacture. When it comes to modern day electronics it is hard to find anyone who does a better job than Mr. Wenger (although Soren Harbo at Labco Magic does spring to mind).

The addition of the shake feature is a brilliant idea and really increases the suspense. Imagine Jaws without the music, the film would be nowhere near as scary. The Shake feature is kind of like that. Not only do they suspect something is about to happen they get a preview too and each time it shakes it builds up the tension and surprise factor. When the snake finally leaps the surprise is that much more intense.

The jar Mr. Wenger uses is much more substantial than the Viper Pro and looks more realistic and professional. The electronics in the Viper Pro II and III are good, and I've never had a problem with them (the first Viper Pro was another story), but they are clearly inferior when compared to Mr. Wenger's work. Don't get me wrong I would still perform the Viper Pro II if I didn't have Shake 'n' Snake, it is still a great, reliable trick. But Shake 'n' Snake is the best without a question, and I cannot imagine ever using my Viper Pro II again.

I must admit however, that I prefer the snake that comes with the Viper Pro II – the one supplied by Mr. Wenger looks a bit more unrealistic. It probably makes no difference whatsoever to the audience, but I certainly prefer the look of the Viper Pro snake. I think this is probably a personal choice thing and has nothing to do with the manufacturing of the snake, just the final look.

Highly Recommended for magical entertainers and collectors everywhere!
Click here for more information.