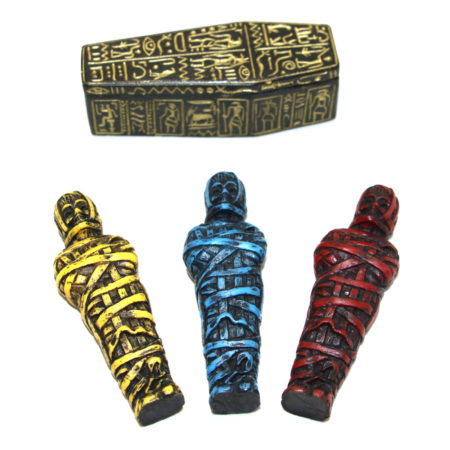 Beautiful Precision Quality

When it comes to magic, I love everything Egyptian. As soon as I saw the Mummy Mystery on the Magic Wagon website, I knew I had to have these little beauties. At the offering price, I knew this item would not last long. The props are precision crafted of the highest quality, consisting of three different colored mummies and a sarcophagus just large enough for any one of the mummies to fit.

The effect is simple. The magician asks a spectator to pick one of the three different colored mummies and place it in the sarcophagus out of site of the magician. When the lid is placed on top of the sarcophagus, the sarcophagus is then placed in front of the magician, who then immediately discerns which mummy is inside.

I highly recommend this beautiful piece of micro magic for the collector or for the magic buff who likes to be able to carry around a unique magic prop and perform on a moment's notice. Comes with a nice carrying bag.

Go get this one right away, as you won't be disappointed.
Click here for more information.