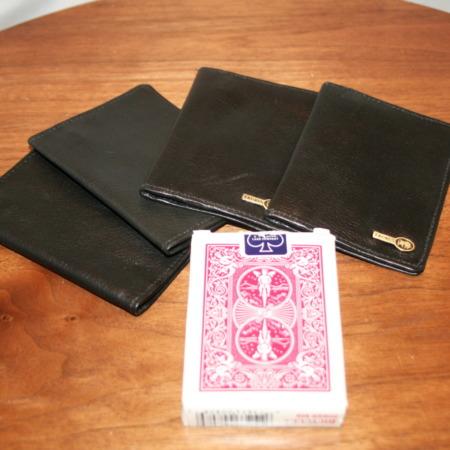 Not as advertised

I purchased this product at the Innovention in 2012.
I had the pleasure of watching Johnny Thompson perform this effect live and in person. It is and was amazing. The handling by Johnny was superb and a real fooler. So… I purchased the effect for $150.00.
The instructions say there is a dvd coming soon. That was written in 2005. It is 2013 as I write and no dvd is forth coming, however, my issue is that the instructions and most of the selling hype is that this is a signature effect used by Johnny Thompson for about 30 years. Well, the set you get is not the same as the one Mr. Thompson uses. I believe that Johnny uses something called a five star wallet. In Mr. Thompson's performance, he allows the spectator to cut the deck and begin dealing the cards immediately. The instructions I have for this do not allow for that type of handling. I can only assume that I have four wallets and a different deck of playing cards than Mr. Thompson employs. While I will still use this effect as it is sold, I do not believe it to be the same trick that Mr. Johnny Thompson uses.
Click here for more information.