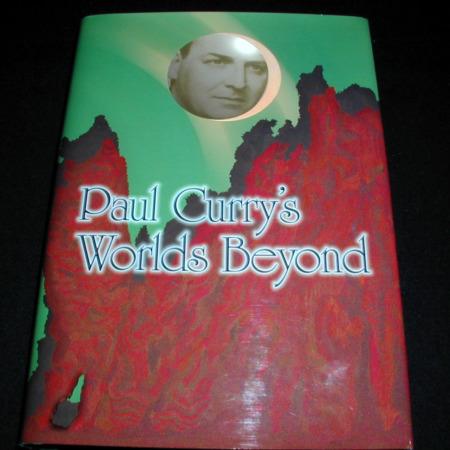 World's Beyond-complete review

I must tell you that my focus is mentalism…. in particular, two-person mentalism. My better half and I perform as the team, "Liz and Leondo" in Las Vegas. As I was ordering this book, I remember asking myself, "why are you buying another book on card tricks?". Heaven knows I have enough of them in my library!

Here's the reason: Like you, I remember very significant things in my life…Where I was when President Kennedy was shot or when I heard Elvis was dead. I can picture my surroundings as the news of Martin Luther King and Bobby Kennedy's assinations were announced. Our younger brothers and sisters will, no doubt, have the same thoughts about the Challenger explosion or the bombing of the World Trade Center.

Well, I may be odd, but I can remember the exact setting and feeling of "astonishment" (to coin a phrase) I had when I first had "Out Of This World" shown to me. It haunted me for years. It is for that very reason that I bought Curry's "World's Beyond".

The book is broken down into sections titled:

"PASSPORT" in which he teaches some card moves. No doubt will be greatly appreciated by the card folks among us, in particular the Curry "Turn Over Change". I have no personel use for them but I enjoyed them. Nothing earth shattering.

"PACKING" is the section in which I realized that Paul Curry had a very serious bent for mentalim. It has some coin work using fire to reveal some amazing revelations. Also included was some card work used in a poker setting reminesant of John Scarne. He also describes a two card trick (Sure Thing) that will make some people talk to themselves. His "Color Changing Deck" routine is so free of "moves", and in the truely startling catagorie that I'm considering doing it myself… don't tell Liz I particular liked "Don't Lie To Me" as it is a prognostication slant. "Houdini's Legacy" is a cool sceance type effect with cards that, under the right circumstances, could scare sombody. "Out of the Past" is Curry's variation of Devant's "The Triangle" card effect found in "Our Magic". I love Curry's working but lean towards Devant's version for stage.

Ther are many more card effects in this chapter including some "Haunted Card" type effects under glass. The main thing I like about Curry's card magic is it's rare that a spectator would hear, "take a card".

"POSTCARDS" is a section of no card work but some excellant mental effects. The first is "Probability Zero" that uses buisness cards that can be added to the short list of truelygreat stunners with buisness cards in my opinion. "Alias Sherlock Holmes" is a rational use for center tear work."Matchmaker" is an ESP effect using 5 Zenner cards that I am going to add to our repertoire. It can also be used over the phone! There is much more to this chapter but I think you have the idea.

"SUITCASES" is the chapter that contains the original version of "OOTW" and the thoughts on it over the decades since he invented it. This chapter also contains his thoughts on the "Open Prediction" effect which has had the attention of some of the greatest minds in magic.

"TRAVEL TIPS" concerns itself with Paul's thoughts on the "Cigarette Switch" and more on the "Center Tear". He offers some good tips on "Psuedo-psychometry". his "Miscalled Palm" is one I've already used to excellent results. Is it possible for an amazing trick to be "too easy?"

I will stop here because, so far, this is all of the book I've actually read. There is more. Even rope tricks. More, cards. More mentalism. More real magic.

Is this book worth the money? It's worth, well…. more!

Highly recommended. $40 from YFD


Click here for more information.