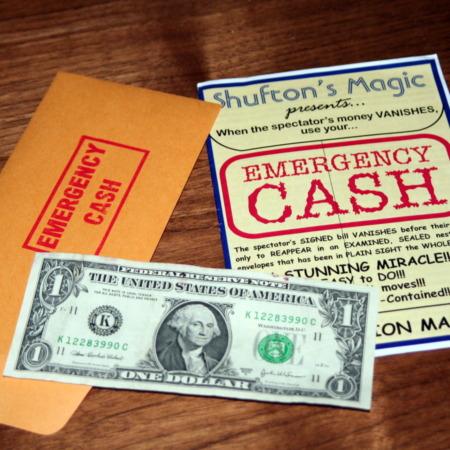 Cashing-in!

Steve Shufton's 'Emergency Cash' is a really delightful concept! A spectator's signed, folded and paper-clipped bank note instantly vanishes and, is produced very cleanly and automatically from inside a small envelope: the final one of six nested envelopes. The spectator himself removes his note from this final (small) envelope. I think that the vanish of the note could be strengthened by taking the'heat' off the hand prior to the vanish of the bank note. I think I've found the solution which fits my needs however, this is purely a personal preference.
Also the final (small) envelope could be replaced by a small self-seal bag which could make for a very strong, visual and unexpected ending.
These personal ideas take nothing away from an excellent and unique idea, which is so easy, that it allows you virtually complete freedom to concentrate on your presentation.
The method is devious, sweetly subtle and totally convincing; you will really get a 'kick' out of it! There are no switches involved and one envelope is actually dual-purpose, in that it both initiates the vanish of the bank note, and seemingly, its reapperance inside the innermost This effect represents great value and comes very highly recommended.

Click here for more information.