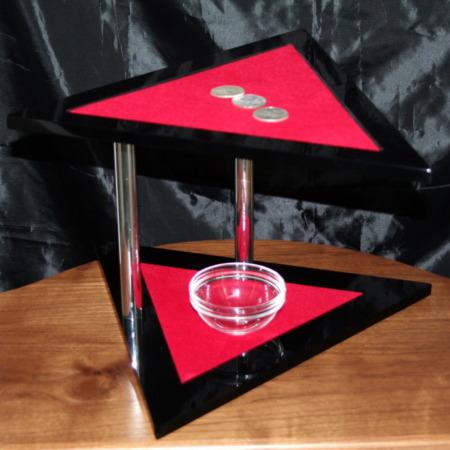 Unique and astonishing

I am proud owner of Dean's Triangle #1. I was privillaged to watch Dean develop this routine over a period of about 3 years. It started as a fun trick and ended up as a signature piece of magic that creates true astonishment.

The Prop is perfect. Rarely do coin magicians have large pretty props to jazz up a show, but this table is beautiful. The pictures do not do it justice. It is precision made by Doug Malloy, Joe Porper, and Dean Dill. The sneaky design features are undetectable and the spectator is welcome to examine it very closely.

Dean is a master of detail. every little thing has been thought out and perfected over years of constant design modifications. While this is not a knuckle buster, it does require good timing and smoothness. Dean is also a master of the moment and all the dirty work is done at precisely the right moment. There is no heat. Once you get comfortable with the pace, it's easy to perform. (it will take practice)

Each coin penetration looks totally air and becomes more impossible with every phase. It is a 4 phase routine that builds to a wonderfully visual and impossible penetration that is visually awesome.

This is a fun routine to perform and it's different from anything else on the market. I highly recommend Dean's Triangle!

Click here for more information.