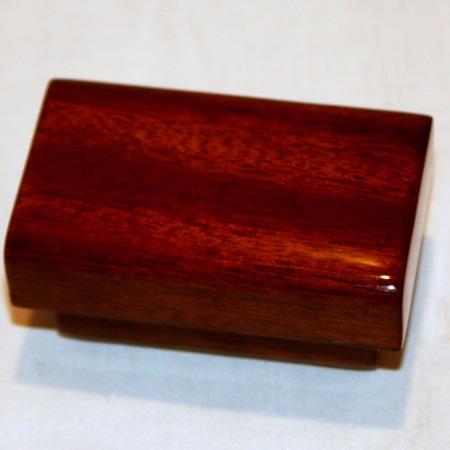 Color Vision that you'll perform!

Number Vision by Magic Wagon is basically a high-end version of the classic Color Vision trick. I have never given Color Vision a chance because I've always been turned off by the need to take the Cube behind your back. As a spectator, if a Magician takes something behind his back, no matter what the reason is, I know he/she is doing something. Like Andy has mentioned, the super smooth interior and polished exterior makes it possible to do the move right in front of the spectator. This baby just "glides" in your hand and all it takes is a little hand motion to disguise it. It wasn't easy at first, put I played around with it for hours and basically studied all the various grips and holds, and now I've developed the knack. That's the perfect word, it's a knack that you have to develop. If you can't do it, you can simply use two hands by cupping the box, raise it to your ears and say something like "the dice talks to me." In that moment of raising it, you would have done the move already. The rest is presentation and milking. However, I highly suggest you play with it until you can do the one hand version. Once you get it down, it's super easy. It's so easy, when I perform it, I do the one-handed move twice and allow the spectator to hold the box at the end, and let the spectator remove the lid.

I love it when a company takes a trick that I don't perform, improve on it, and convert me! Hey, there are easier and more expensive versions of these types of tricks on the market such as Multi-Dimensional and Mini Remote Die by Tim Wisseman. I own the mini remote die from Tim Wisseman, so don't get me wrong, I like things easy too, but there is a sense of pride when you can do it with skill. I mainly do card magic, and mastering the Number Vision one-hand move gave me the same euphoria I get when mastering a card sleight, flourish or knack.

This is a keeper!


Click here for more information.