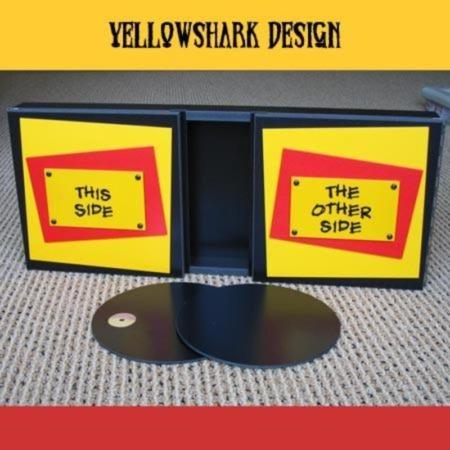 A New Craftsman Is In Town!!

Wacky Wolf inspired box and what a great box this is…with meticulous attention to both detail and quality. As the enclosed letter starts, "Congratulations! You are the proud owner of the Yellowshark Design Sliding Disc Box. This is made of the finest quality materials, designed for professionals…" I am definitely proud to add this beauty to my magic collection

Bright colors, piano hinged doors, perfect fittings, and fabulous graphics on the doors with the center plates attached with screws so that the message can be exchanged are some of my observations on the box. Bill Mitchell the artist behind Yellowshark Design was inspired when he wasn't happy with the sliding disc boxes currently available and wanted to have one that would fit with the Chance Wolf props he owned.

As can been seen, he succeded quite wonderfully. He used expanded pvc and the box measures 20 1/2" by 8 1/2" by 2 1/2". Two 7 3/8" diameter "blank" discs are included…one can then custom add one's graphics to it that fits one's taste. One has a metal washer attached and included with the set is a belt magnet.

He made an initial 2 boxes, then a run of 12 (probably sold out now). There may be no more, BUT we have not heard the last from Bill, "while it was fun to make the props, and it was gratifying to see that there is a market, I do not enjoy working with the expanded pvc material, so I may not make any more. I have been a professional woodworker for the last 20 years or so, and much prefer working with wood." Am I hearing the next Mel Babcock or Alan Warner here…keep tuned.
Click here for more information.