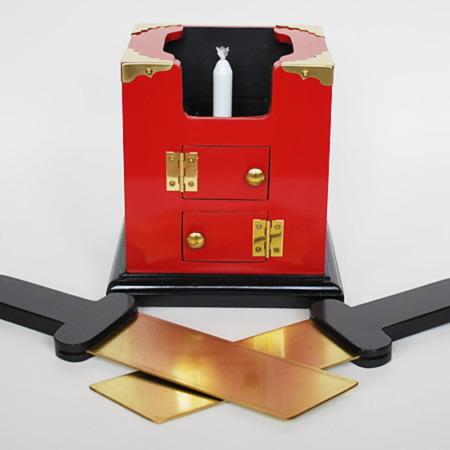 Am I Glad I Got This!

I have been a avid admirer of Jim Riser's work since about 2001. That same year I acquired his Mini Cube-On Release (only two were ever made, I heard). Having bought many of his beautiful magic over the years, this Mini Flame Clock had become a sort of "holy grail" to me.

It is truly a unique, one of kind, Riser apparatus, beautifully handcrafted with innovations to the design (open, deceptive top view; solid brass corner trims atop each corners with brass hardware on the doors; and a true mini-magic look standing at about 6 1/2 inches tall). The blades are heavy, solid, brushed brass. The mechanics is solid in construction and smooth in operation. The paint job on the cabinet is superb…not an easy accomplishment. Clearly a masterpiece from the Riser workshop.

Overall, a great acquisition to behold. Best of all, this baby has been so pampered by previous owners as the overall condition of the apparatus despite its many years is fantastic…you would think it was just finished and shipped by Jim Riser himself!

I would normally add my "highly recommended" note here, but as I stated earlier, there is no other copy out there and there will never be one. Glad I got the unexpected e-mail from the previous owner offering me this for sale.
Click here for more information.