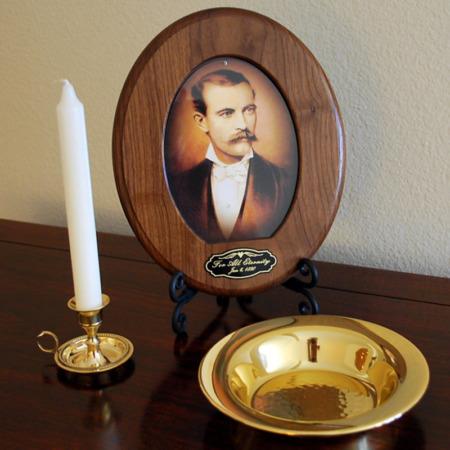 Another Big Collectible from the Wolf

This is one electromechanical marvel from Wolf's Magic. The frame looked elegant, but simple, when I first examined it out of the box, but the surprising eye opener is when I removed the magnetic backing to the frame and marveled at the clean, etched grooves and spaces where the mechanics are blended into the frame itself. Looking at the works turned out, for me, to be more interesting than the effect itself. Reminded me of the same experience I had with CW's Silver Odyssey II, another apparatus where the workings is much more fascinating than the effect, but, don't get me wrong, it is still strong magic as is the case with For All Eternity.

OK, I definitley found out, and Chance stated the same on his site, that this is NOT a close-up item. Some distance and dim lighting would help at the crucial moment due to the nature of the method used. Fortunately, this is the perfect atmosphere for this effect. It is an eerie and haunting story that surrounds this effect and it clearly needs the right tone for a memorable magical experience.

The set comes complete with all that is needed for the performance with extra images, extra "something", brass tray, candle holder, candle, and a DVD that thoroughly goes through the routine. Also included are digital images to reprint the sepia photo in the frame and a great music track to bring it all into one elegant presentation.

Though not strictly a "limited edition" item, these are serially numbered. Now, I was "fooled" as I could not find the usual serial number plate for my apparatus as in past Wolf collectibles, but Chance cleared that one with a response to my e-mail (should have seen the DVD first as it is explained it in there). The serial number is on the DATE! #1 starts with January 1, 1890. I got #4 (see last image – January 4, 1890). If further releases come out beyond 31, we will see February 1, 1890 and so on…most clever idea and just another beautiful touch to this item.

Click here for more information.