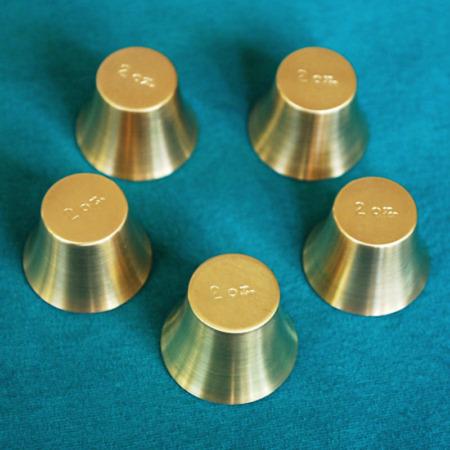 One very nice set of chink-a-chink, indeed!

This is a classic effect that has piqued my interest for years. I own the Tony Van Rhee set among others, but this new solid brush brass weight set by Jim Riser is simply amazing. The team of Jim Riser and Whit Haydn has come up with a remarkable set of chink-a-chink that brings both beautiful craftsmanship and ease of performance to this effect. I am not kidding…the moves with this well designed set just seems so smoother and easier than any I have worked in the past.

The shell is very sturdy and subtle. It will fit perfectly on any of the four solid pieces in the set…no more fumbling for the right one. Again, the size, look, and weight makes for easy grasp and the addtion of the weight measure at the top of each piece, including the shell, is fantastic for the storyline. The shell, alone, can be seen in the first image at the forefront and a shelled piece stands to the left of a regular piece in the second image.

The DVD is well shot and the routine clearly explained. The storyline about the Chinese weights and the Old West con men is a great patter for the set. The DVD concludes with a even more fascinating routine by Ed Parrish. Overall, a lovely set and well recommended.
Click here for more information.