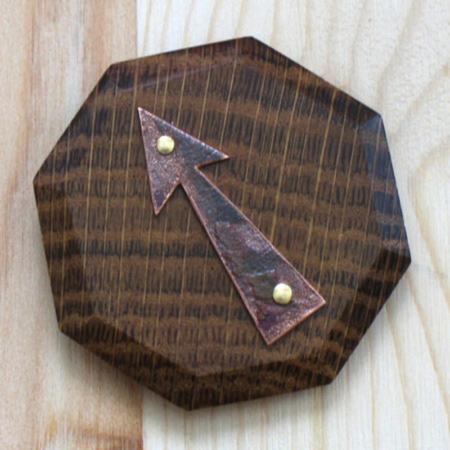 Simple, but elegant in Colin's hands

This is a simple, old pocket trick, but it's the workmanship that elevates this to a true collectible, not to mention the source of the material used in its construction. The Oak wood is quite old, over 240 years, and comes from the H.M.S. Victory, Admiral Nelson's ship in the Battle of Trafalgar against the combined French and Spanish armada back in 1805. The arrows have been cut from the Copper Sheet that was taken from the hull of H.M.S. Victory. You don't have to be British to appreciate these events in history. As a lover of history, holding the compass alone is exhilarating, imagining where this wood has been in over two centuries.

The oak is a beautifully grained specimen as can be somewhat appreciated in the images. You really need to see this with you own eyes. What a magical and truly historical piece to add to my collection from this wonderful craftsman, whose vases are also a beauty to behold (I have five, so far).

Colin also released an "Exotic Wood" version of the Chinese Compass made with black Ebony and Amarillo turned arrows…also very nice, but the Trafalgar Oak Compass definitely takes center stage. Besides, as suggested by Sharron Rose, "…it is a great little piece of magic, now with the added story linking it to The Battle of Trafalgar and Lord Nelson…same brilliant magic routine but now with a nautical flavour!. It is most highly recommended for the discriminating magic collector, but caution, as it may be limited to only ten pieces.

Click here for more information.