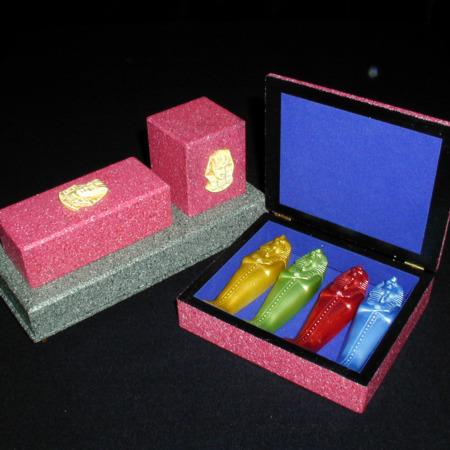 Four Mummies, Lights, Camera, but not enough Action!

Ok so this is a well made, clever effect using 4 colorful mummies.

The basic premise is: you show the 4 mummies and the pedestal. Whilst your back is turned a specatator removes any one of the mummies and places it into a coffin on the pedestal and covers it up. When you turn around you lift the second cover to expose the crystal. As the spectator stares into the crystal it glows the color of the selected mummy. Then it mysteriously stops. No matter how they try they cannot get it to light again with any of the other mummies.

So all sounds very cool. The box and pedestal are made of wood with some heavy duty coating to give them a stone like look and finish. Making them of exotic woods would have made them look nicer, but they are still attractive as they are. The mummies appear to be made of some sort of chalky like material but painted with a high gloss finish. These are fine, except they are brittle so can easily chip if not handled carefully.

The electronics is self working, and once the first mummy has illuminated the light, without resetting the unit, it is not possible for the spectator to cause the light to come on again. So far so good.

This effect does exactly what it says it will do and there really are no complaints except for: so what. Clearly there is some sort of electronics in the box … its a puzzle that you can't then get it to light again, but I don't think people are going to walk away amazed. What this effect needs, like so many "clever" effects is more mystery, more magic, more story, more action!

As a part of a larger routine I think this could be made into something very cool. As a cool, different prop to show off in your den it is cool, but as something that is going to amaze your audience I don't think so. Maybe I'm getting too jaded in my old age. Don't get me wrong I like this prop, but what we need is cool electronics and entertainment. Not just cool electronics.

Well that is my opinion, and I'm sticking to it!
Click here for more information.